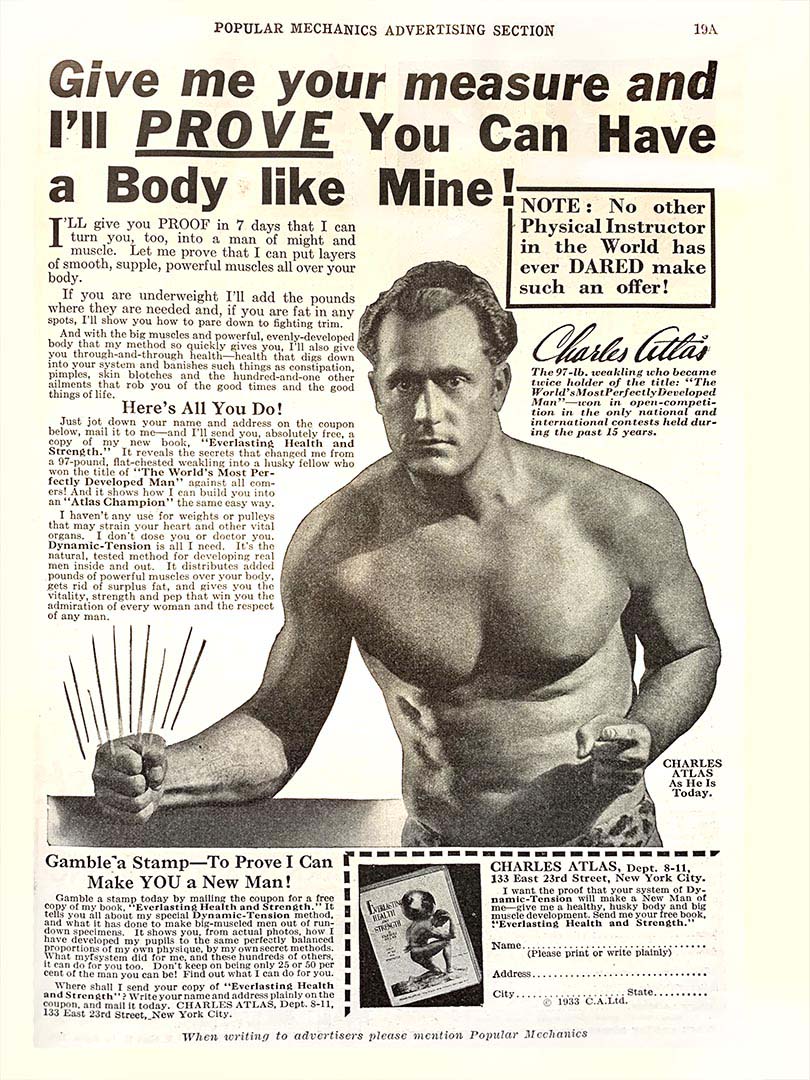 Charles Atlas is a professional bodybuilder. He is from Originally from Acri Italy. The manual made on him is "Health & Strength by Charles Atlas" training manual. He provided a unique way program that changed the world of fitness at that time. He also creator of "Dynamic Tension" workouts that were added in his manual. It's became very popular and sold thousands of copies.
Charles Atlas (born Angelo Siciliano; October 30, 1892 – December 24, 1972) was an Italian-born American bodybuilder best remembered as the developer of a bodybuilding method and its associated exercise program which spawned a landmark advertising campaign featuring his name and likeness; it has been described as one of the longest-lasting and most memorable ad campaigns of all time.

Atlas trained himself to develop his body from that of a "scrawny weakling", eventually becoming the most popular bodybuilder of his day. He took the name "Charles Atlas" after a friend told him that he resembled the statue of Atlas on top of a hotel in Coney Island and legally changed his name in 1922. He marketed his first bodybuilding course with health and fitness writer Dr. Frederick Tilney in November 1922. The duo ran the company out of Tilney's home for the first six months. In 1929, Tilney sold his half of the business to advertising man Charles P. Roman and moved to Florida. Charles Atlas Ltd. was founded in 1929 and, as of 2020, continues to market a fitness program for the "97-pound weakling" (44 kg). The company is now owned by Jeffrey C. Hogue.

Angelo Siciliano was born in Acri, Cosenza, on October 30, 1892. Angelino, as he was also called, moved to Brooklyn, New York, in 1904, and eventually became a leather worker. He tried many forms of exercise initially, using weights, pulley-style resistance, and gymnastic-style calisthenics. Atlas claimed that they did not build his body. He was inspired by other fitness and health advocates who preceded him, including world-renowned strongman Eugen Sandow and Bernarr MacFadden (a major proponent of "physical culture"). He was too poor to join the local YMCA, so he watched how exercises were performed, then performed them at home. He attended the strongman shows at Coney Island, and would question the strongmen about their diets and exercise regimens after the show. He would read Physical Culture magazine for further information on health, strength, and physical development, and finally developed his own system of exercises which was later called 'Dynamic Tension', a phrase coined by Charles Roman.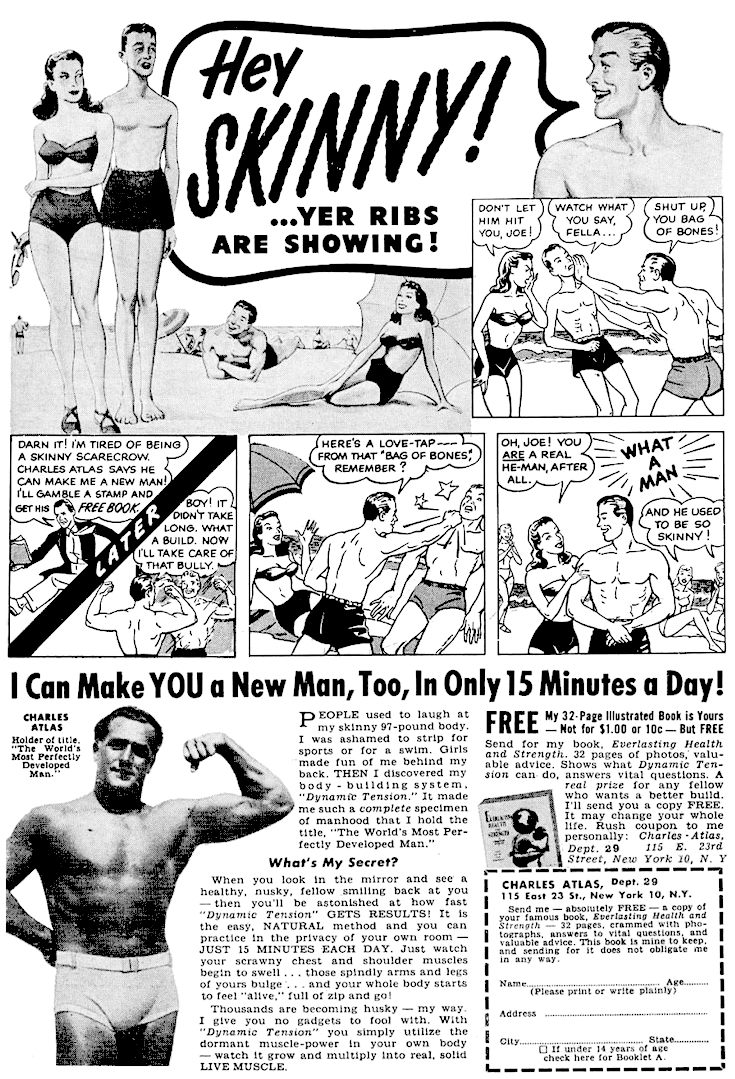 The direct mail campaign offered young male readers of comic books and popular magazines a copy of his book, "Everlasting Health and Strength", revealing the secrets that would change weaklings into husky fellows.

"And with the big muscles and powerful, evenly-developed body that my method so quickly gives you I'll also give you through-and-through health—health that digs down into your systems and banishes such thing as constipation, pimples, skin blotches and the hundred and one other ailments that rob you of the good times and the good things of life."

The book promoted a series of courses that would get rid of surplus fat, and give young men vitality, strength and pep that would "win admiration of every woman the the respect of any man."

This advertisement from Popular Mechanics, November 1933, carries the reminder beneath the Charles Atlas signature that "The 97-lb weakling became twice holder of the title: "The World's Most Perfectly Developed Man"— won in open-competition in the only national and international contests held during the past 15 years."

That title has not been authenticated although Bernarr MacFadden, publisher of the magazine Physical Culture, dubbed Siciliano "America's Most Handsome Man" in 1921, and "Americas Most Perfectly Developed Man" in a 1922 contest held in Madison Square Garden.

The expression "the 97-lb weakling", which became a metaphor for puniness and humiliation, was created in 1928 by Charles P. Roman an account executive at the Benjamin Landsman Advertising Agency in New York.
SKINNY WEAKLING

A bully kicked sand into Siciliano's face at a beach when he was a youth, according to the story that he always told. At this time in his life, also according to the story, he weighed only 97 pounds (44 kg). According to several stories and claims, he was at the zoo watching a lion stretch when he thought to himself, "Does this old gentleman have any barbells, any exercisers? ... And it came over me. ... He's been pitting one muscle against another!" None of the exercises in the Dynamic Tension course could be attributed to how lions use their bodies. Other exercise courses of the time contained exercises similar to Atlas's course, particularly those marketed by Bernarr McFadden and Earle E. Liederman.

Bernarr MacFadden, publisher of the magazine Physical Culture, dubbed Siciliano "America's Most Handsome Man" in 1921, and "Americas Most Perfectly Developed Man" in a 1922 contest held in Madison Square Garden He soon took the role of strongman in the Coney Island Circus Side Show. Nowhere did Atlas win a title proclaiming him to be the world's most perfectly developed man.

In 1922, 30-year-old Siciliano officially changed his name to Charles Atlas, as it sounded much more American. He met Dr. Frederick Tilney, a British homeopathic physician and course writer who was employed as publisher Bernarr MacFadden's "ideas man". Atlas and Tilney met through MacFadden, who was using Atlas as a model for a short movie entitled "The Road to Health". Atlas wrote a fitness course and then asked Tilney to edit it. Tilney agreed and Atlas went into business in 1922.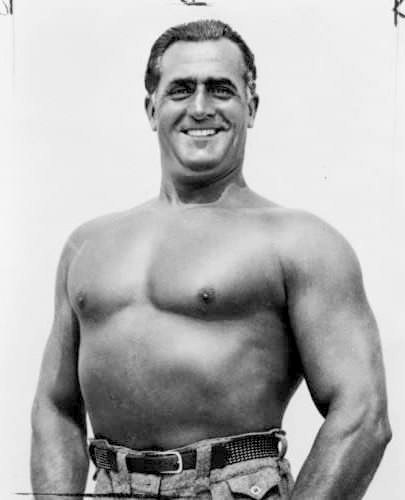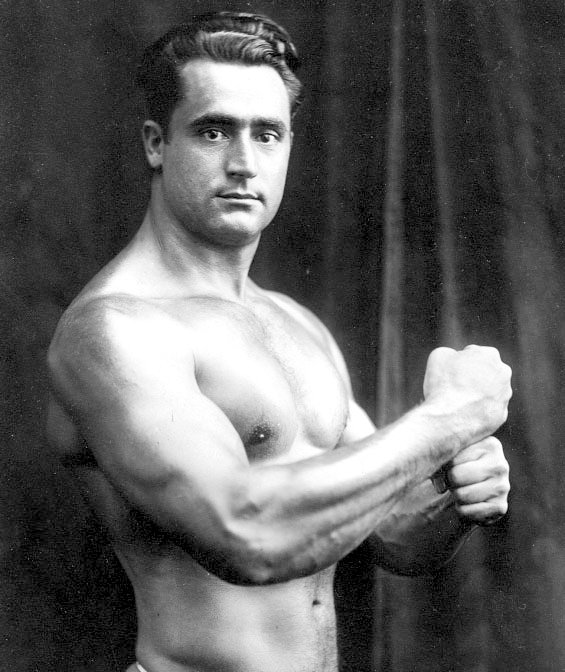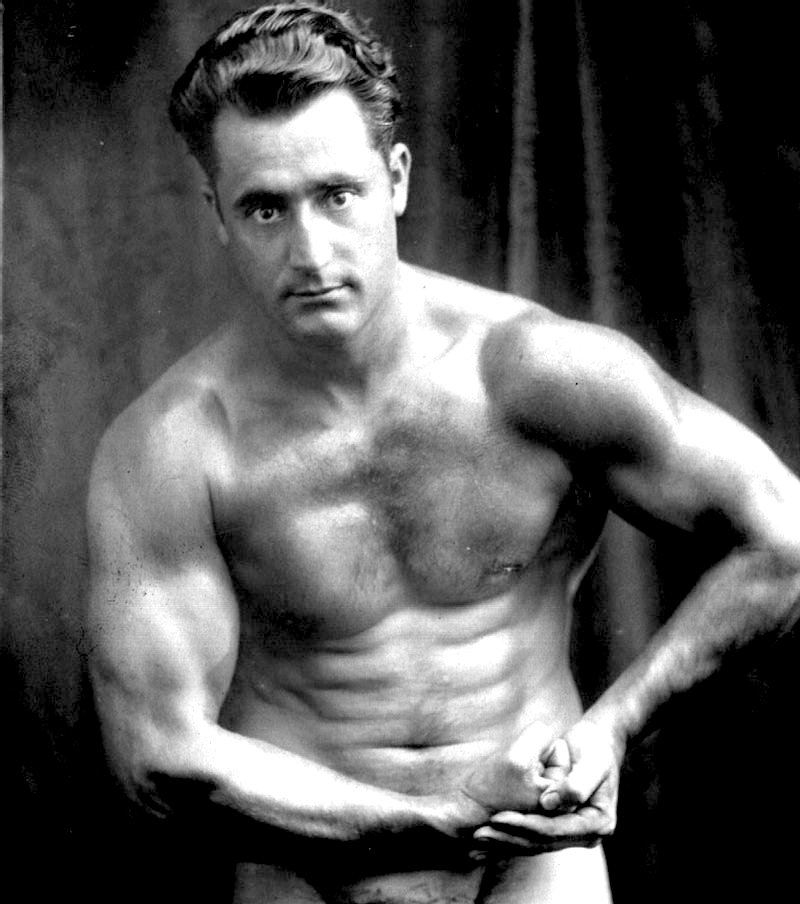 It would have been understandable, even excusable, with Charles Atlas being one of the most recognized celebrities in the world, a multi-millionaire, with the President of the United States and the King of England among his clients, for the man to grow proud and conceited in his glory. But the most remarkable thing about Atlas was that he didn't. He was, in spite of all his strength, wealth, and fame a genuinely nice guy. He loved the limelight, but was just as eager to spend time with the ordinary fans who would write to him by the thousands (at the height of his popularity, he had a team of almost 30 women to open and sort his fan-mail). He tried to write replies personally whenever he could, and sometimes would even invite fans to come and meet him, during which they would be surprised by how much interest he showed in their lives (in particular, he would often ask if they went to church). He wanted to create a bond with his students so that they would trust him and so be all the more motivated to improve their lives. Moreover, his view of health extended beyond the mere physical into spiritual and emotional realms. He believed that a man could never be truly healthy unless he did things like keep his house clean and orderly or go to church regularly. He decried the expanding divorce rate, claiming that it was the result of a mass failure to live truly healthy lifestyles.

He developed a system of isometric exercises and became the most perfectly developed man at a national contest held at Madison Square Garden. Friends told him he looked like a statue of Atlas and the name "Charles Atlas" stuck. He placed ads in thousands of magazines with a mail in coupon to get his secrets and did so well, he was one of the few left unscathed by the market crash in 1929. By the late 1930's he had offices all around the world and as many as 30 million people have subscribed to his mail order course. He continued to work out at the New York City Athletic Club and posed for photos with members and visitors until his passing in 1972. He is considered a founding father of the body building fitness industry.
ISMETRIC - DYNAMIC TENSION

Atlas' "Dynamic Tension" program consists of twelve lessons and one final perpetual lesson. Each lesson is supplemented with photos of Atlas demonstrating the exercises. Atlas' lesson booklets added commentary that referred to the readers as his friends and gave them an open invitation to write him letters to update him on their progress and stories. Among the people who took Atlas' course were Max Baer, heavyweight boxing champion from 1934 to 1935; Rocky Marciano, heavyweight boxing champion from 1952 to 1956; Joe Louis, heavyweight boxing champion from 1937 to 1949; British heavyweight weightlifting champion and Darth Vader actor David Prowse; and Allan Wells, the 1980 Moscow Olympic Games 100 meter champion.
STATISTICS
Charles Atlas Weight was: 185-195lbs (83.9-88.5kg), Height in Feet is 5.10 feet.

Height – 5'10" (177.5cm)
Weight – 185-195lbs (83.9-88.5kg)
Chest – 47 inches
Waist – 32 inches
Arms – 17 inches
Calves – 16 inches
Thighs – 23 inches
You don't need weights to get fit, but they are necessary if you want to bulk up for any he-man part in television or the movies. Many extras have started from being the beef-cake in a crowd scene, especially pirate movies, then progressed to acting. Getting into the right frame of mind, is more than just pumping iron, it is a regime based on good diet, eating patterns and regenerative sleep.
WORKOUT
Before starting any workout routine or exercise make sure you stay hydrated during workouts by drinking water or energy drinks. Don't forget to warm-up exercising and make sure to cool down by stretching your muscles out, because it helps you to do an injury free workout.

1 set & 10 reps — 2 Chair Press Up
1 set & 10 reps — Finger Lock Chest Pull
1 set & 15 reps — Good Morning with Leg Resistance
1 set & 15 reps — Squat Thrusts
1 set & 10 reps — Lateral Raise with Resistance
1 set & 10 reps — Front Raise with Resistance
1 set & 10 reps — Bicep Curl with Resistance
1 set & 10 reps — Bicep Curl with Rear Resistance
1 set & 10 reps — Tricep Pulldown with Resistance
1 set & 10 reps — Tricep Pulldown across Chest with Resistance
1 set & 10 reps — Prone Leg Raise
1 set & 10 reps — Body Flex with Chair
1 set & 15 reps — Cross Leg Squat
1 set & 15 reps — Toe Raise Squat
1 set & 20 reps — Stepped Toe Raise
1 set & 20 reps — Heel Raise
Around 25 minutes workout gives your whole body a workout. Always take a stretch between each sets. Take 30 seconds rest between every exercises you perform.

1 set & 10 reps — Pushup
1 set & 10 reps — Standing Chest Fly
1 set & 10 reps — Row Squeeze
1 set & 10 reps — Vertical Pull
1 set & 10 reps — High Elbow Row
1 set & 10 reps — Shoulder Press
1 set & 10 reps — Bicep Curl
1 set & 10 reps — Close Grip Push Up
1 set & 15 reps — Squat
1 set & 15 reps — Good Morning
1 set & 15 reps — Seated Toe Raise
1 set & 15 reps — Standing Calf Raise
1 set & 10 reps — Crunch
1 set & 10 reps — Single Lying Leg Raise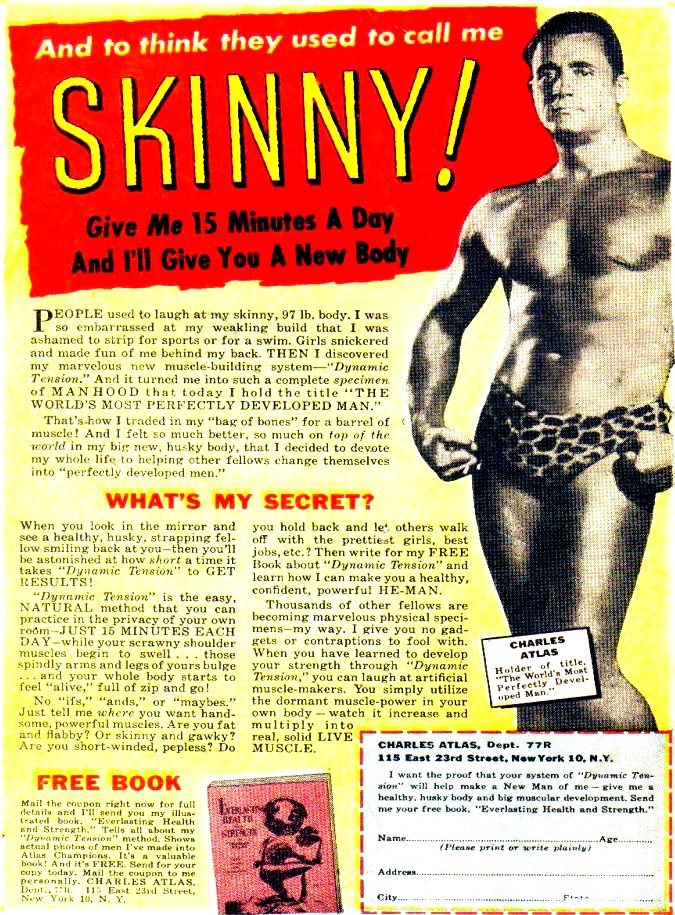 Callum Von Moger
Dennis Wolf
Greg Covacs
Jay Cutler
Lee Haney
Phil Heath
Ronnie Coleman