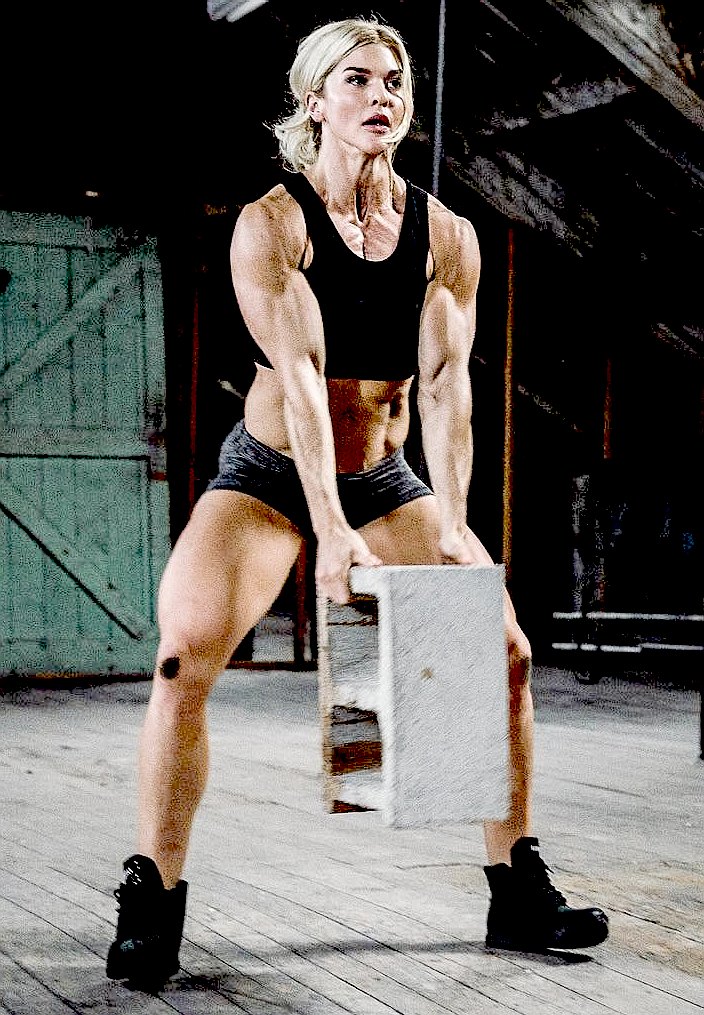 You don't need weights to get fit, but they may be beneficial if you want a good shape for any part in a television series, the movies, or a career in modelling.
Brooke Holladay Ence is a fitness model, and a CrossFit athlete from California U.S. She started her fitness journey as a professional dancer in her youth.

Brooke first tasted fame in 2015, after qualifying for the 2015 CrossFit Games. As an outsider, she astonished the crowd that year with two first-place titles in the Clean and Jerk, and Snatch Speed Ladder; finishing 14th overall.

From that point on, Brooke's rise in the CrossFit and the fitness world began. She started competing at the Games annually, finishing in 3rd place at the 2016 CrossFit California Regionals. Brooke also became a trainer in one of the CrossFit gyms in "The Golden State". She is also a sought-after fitness model with her own apparel company.

WORK, REST & PLAY

Brooke trains between 3-6 hours each day, several days a week.

To recover from her long and intense training sessions, Brooke dedicates a couple of days each week away from any strenuous physical activity. Her recovery methods include getting more sleep, and spending time outdoors in the sun, where she usually naps.

She is quoted as saying: "Rest days always seem so far away and then they pass by so fast. My body loves a nice Sunday; sleeping in, brunch with friends, sweatpants, TV, online shopping… I could go on and on but I will spare you."
DIET

As a CrossFitter, Brooke's diet compared to some of her fellow competitors. Instead of following the standard paleo diet, she incorporates a high protein, low carb, and moderate fat diet; with grains being one of its components.

Even though Brooke knows gluten-free approach may be more efficient for a CrossFit athlete, she prefers having grains, and a little bit of gluten in her diet because it gives her more energy and boosts her mood.
DAILY MEAL PLAN

8:30 am Breakfast

6 scrambled egg whites with mushrooms, zucchini, peppers
2 strips bacon
A dry English muffin

12:30 pm Lunch

Any kind of lean meat (chicken breast, grass-fed beef, fish)
145g of Fingerling potatoes

5:00 pm Snack

Protein bar

8:00 pm Dinner

Turkey with vegetables ( 21g Protein, 27 g carbs, 7 g fat )

After Dinner Snacks

Non-fat Greek yogurt ( 21g protein, 7 g carbs), peanut butter
One serving of her favorite cereal (20-40 grams)

Supplements

If Brooke finds that her diet is lacking in green vegetables, fish, or protein, she will take fish oil capsules, "superfood blend" supplement, and whey isolate. Otherwise, Brooke ill not use any supplements.
Looking great, feeling good. Brooke is a sporting performer as well, and has her head screwed on in the business department.
PERSONAL BESTS

Back Squat – 320 lb
Clean and Jerk – 253 lb
Snatch – 207 lb
Deadlift – 365 lb
Fran – 2:07
Filthy 50 – 24:38
Sprint 400m – 1:11
Run 5k – 24:00

FILTHY 50 WORKOUT

Box jump, 50 reps, 24-inch box
Jumping pull-ups, 50 reps
Kettlebell swings 50 reps
Walking Lunge, 50 steps
Knees to elbows, 50 reps
Push press, 50 reps, 45 pounds
Back extensions, 50 reps
Wall ball shots, 50 reps, 20-pound ball
Burpees, 50 reps
Double Unders, 50 reps

Brooke usually finishes this workout within 25-28 minutes; her personal best being 24:38. Nice one Brooke
Maggie Martin (Margie Marvelous)