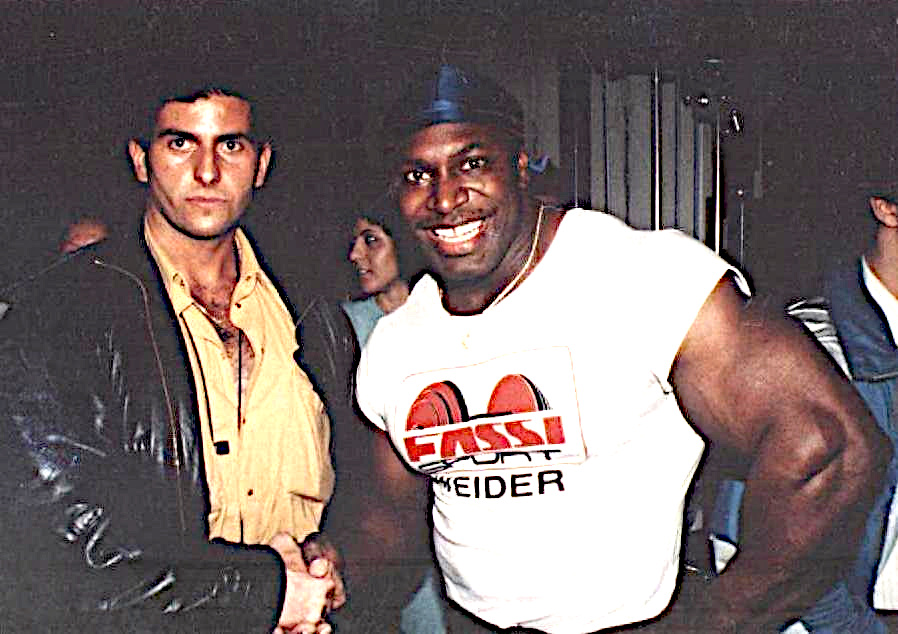 Paolo Tassetto and Lee Hanney in 1988
Lee Haney WAS born on the 11th of November 1959. He is an American former IFBB professional bodybuilder. Haney shares the all-time record for most Mr. Olympia titles with Ronnie Coleman, at eight wins each.
You don't need weights to get fit, but they are necessary if you want to bulk up for any tough guy part in television or movies. Many extras have started from being the strong man in a crowd, especially pirate movies, then progressed to acting. Getting into the right frame of mind, is more than just pumping iron, it is a regime based on good diet, eating patterns and regenerative sleep.
Lee Haney grew up in Spartanburg, South Carolina. He is a graduate of Spartanburg Methodist College, where he earned a degree in youth counseling. He and his wife, Shirley, reside in Atlanta, Georgia. They have two children.

President Bill Clinton appointed Haney chairman of the President's Council on Physical Fitness and Sports. A devout born again Christian, Haney has his own program on the Trinity Broadcasting Network called "TotaLee Fit with Lee Haney," where he is usually joined by famous Christian sportsmen, and on occasion his wife. On the show he teaches the importance of both physical and spiritual growth. One of his most famous quotes is that we should "train to stimulate, not annihilate."

STATISTICS

Height: 5 ft 11 in (180 cm)
Off Season Weight: 260 pounds (118 kg)
Competition Weight: the lightest 230 pounds (104 kg) 1984 Mr. Olympia and the heaviest 250 pounds (113 kg) 1989 Mr. Olympia
Chest size: 56 in (142 cm)
Neck size: 20 in (51 cm)
Arm Size: 21 in (53 cm)
Waist: 31.5 in (80 cm)
Thigh Size: 30 in (76.2 cm)
Calf Size: 20 in (50.8 cm)

BODYBUILDING TITLES
1979 Teen Mr. America
1979 Teen Mr. America Tall, 1st
1982 Junior Nationals Heavyweight & Overall, 1st
1982 Nationals Heavyweight & Overall, 1st
1982 World Amateur Championships Heavyweight, 1st
1983 Grand Prix England, 2nd
1983 Grand Prix Las Vegas, 1st
1983 Grand Prix Sweden, 2nd
1983 Grand Prix Switzerland, 3rd
1983 Night of Champions, 1st
1983 Mr. Olympia, 3rd
1983 World Pro Championships, 3rd
1984 Mr. Olympia, 1st
1985 Mr. Olympia, 1st
1986 Mr. Olympia, 1st
1987 Mr. Olympia, 1st
1987 Grand Prix Germany (II), 1st
1988 Mr. Olympia, 1st
1989 Mr. Olympia, 1st
1990 Mr. Olympia, 1st
1991 Mr. Olympia, 1st